español
| english |
Private area
European Network on Social Inclusion and Roma under the Structural Funds
Structural Funds: Investing in Roma
Outstanding New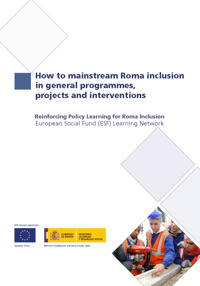 These handbooks, which provide an in-depth and technical analysis of two topics identified as among the most challenging ones, aim to serve as practical resources for Managing Authorities, Intermediate Bodies and other relevant stakeholders involved in the planning, implementation, monitoring and evaluation of ESI Funds. Together with the "Joint report on the use of Structural Funds for Roma inclusion" released in 2014, the handbooks are the key tools of the Network to achieve its goal of transferring the knowledge gained on the use of Structural Funds for Roma inclusion during the 2007-2013 programming period to the 2014-2020 period.
About EURoma
EURoma, a European Network made up of representatives of twelve Member States, is determined to promote the use of Structural Funds (SF) to enhance the effectiveness of policies targeting the Roma and to promote their social inclusion.
Current Member States: Bulgaria, the Czech Republic, Finland, Greece, Italy, Hungary, Poland, Portugal, Romania, Spain, Slovakia and Sweden.
About EURoma:
Resource Center:
Facts by Country:
Newsroom:
Events: