español
| english |
Private area
European Network on Social Inclusion and Roma under the Structural Funds
Structural Funds: Investing in Roma
Outstanding New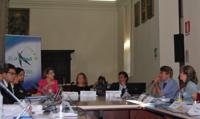 The EURoma Network held its bi-annual meeting on 5th-6th June hosted by the Italian partners of the Network. The agenda focused on Recent developments in Partnership Agreements, new Operational Programmes and the future of Transnational Cooperation 2014-2020. 
About EURoma
EURoma, a European Network made up of representatives of twelve Member States, is determined to promote the use of Structural Funds (SF) to enhance the effectiveness of policies targeting the Roma and to promote their social inclusion.
Current Member States: Bulgaria, the Czech Republic, Finland, Greece, Italy, Hungary, Poland, Portugal, Romania, Spain, Slovakia and Sweden.
About EURoma:
Resource Center:
Facts by Country:
Newsroom:
Events: