14 years working together to improve the lives of Roma people
The European Network on Roma Inclusion under EU Funds (EURoma Network) brings together public authorities responsible for Roma policies and those responsible for European Cohesion Policy Funds from fifteen EU Member States, as well as the European Commission, with the aim of improving the use of these funds for the promotion of the social inclusion, equal opportunities and fight against discrimination of the Roma community.
Launched in 2007 by the Spanish Government (Spanish ESF Managing Authority) in cooperation with the Fundación Secretariado Gitano (FSG), this Network of transnational cooperation aims to contribute to the promotion of social inclusion, equal opportunities and fight against discrimination of the Roma community through the improvement of the use of European Cohesion Policy Funds – notably European Social Fund Plus (ESF+) and European Regional Development Fund (ERDF)- in this sense. 
Despite progress made, Roma population, the largest ethnic minority in Europe, still faces the highest levels of poverty, exclusion and discrimination (even more with the crisis and with the growth of racist speeches/movements).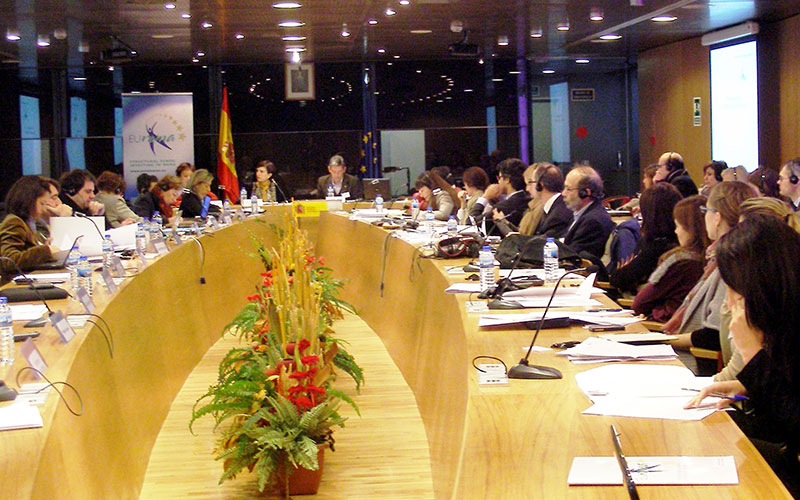 EURoma intends to take advantage of the possibilities offered by the European Cohesion Policy Funds and the transnational cooperation to take the definite step forward in promoting a real change in the lives of European Roma and end, once for all, with the existing gap between the Roma population and the rest of European population.
Within this framework, the Network aims to:
Help improve the effectiveness and impact of the initiatives targeting the Roma population in the current programming period, notably within ESF/ESF+ and ERDF but also within other European funds and instruments.
Contribute, based on partners' experience and the work within the Network, to European/national frameworks and policies of relevance for European Cohesion Policy Funds/Roma inclusion.
Foster transnational cooperation among Network partners as well as between them and other relevant actors as regards European Cohesion Policy Funds and/or Roma inclusion.
The Network has been working over the 2007-2013 and the 2014-2020 programming periods maintaining the elements that have proven of value and incorporating new ones, building upon the potential offered by the political, legislative and financial frameworks on the one hand and partners' needs and expectations on the other.
The EURoma Network is funded under the Spanish European Social Fund (ESF) Operational Programme Social Inclusion and Social Economy.