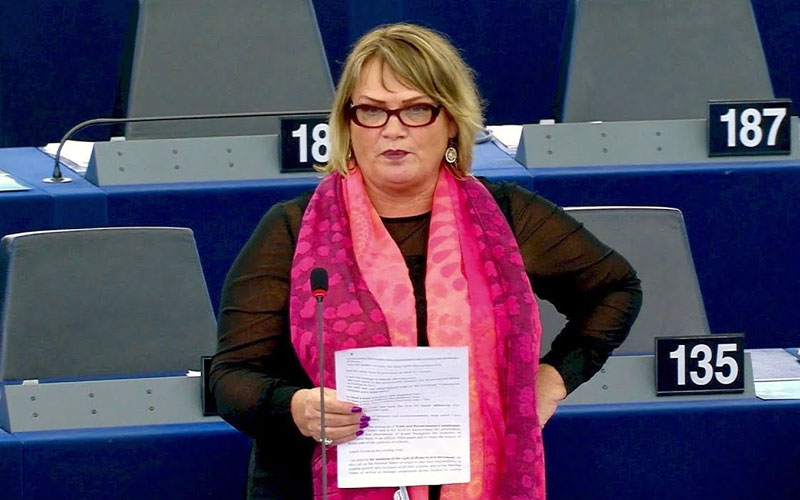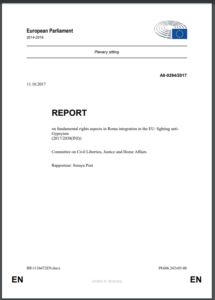 The European Parliament adopted, with broad majority, an own initiative report proposed by Roma MEP from Sweden, Soraya Post, on protecting the fundamental rights of Roma people and fighting discrimination and anti-gypsyism in the EU.
Read the full report: "REPORT on fundamental rights aspects in Roma integration in the EU: fighting antiGypsyism"
The ambitious report is a firm condemnation of the current situation of discrimination and antigypsyism against Roma people in Europe and a call to action for the Commission and Member States.
The report demands a wide array of  policies including measures aimed at tearing down stereotypes and building mutual trust, housing and school desegregation measures, measures to ensure equal treatment of Roma in access to housing, employment, health services or high quality and mainstream education as well as the effective implementation and enforcement of anti-discrimination measures.
EU Funding
The report expresses concern about the fact that most mainstream programmes, including those covered by the ESI Funds, fail to reach the most disadvantaged, in particular the Roma, and calls on the Commission and/or the Member States to:
assess EU programmes and funding opportunities to determine if they meet the requirement of non-discrimination and participation, and where necessary, take corrective measures;
apply a robust, quality-focused and long-term monitoring and financial accountancy scheme to check the performance of Member States when using EU programmes;
ensure that the existing complaint mechanism is made more accessible and transparent to enable the reporting of discriminatory EU funding and programmes;
suspend funding in cases of misuse of EU funding;
reform ESI Funds so that they provide financial support for the fight against antigypsyism in a more proactive way;
ensure that the relevant interventions financed by the EU with possible implications for the Roma community are inclusive and fight segregation;
ensure that segregation practices are clearly described and explicitly excluded from funding;
increase the absorption rate of EU funds in line with the priorities established in the National Roma Integration Strategies;
ensure that all available resources are used effectively to improve the situation of Roma people, focusing on education, employment and housing. In the latter, particularly by promoting desegregation, eliminating any spatial segregation, promoting community-led local development and integrated territorial investments, through a consistent policy on public housing and with the support of ESI Funds, both ESF and ERDF. It particularly urges ESF and ERDF to be earmarked for spatial desegregation measures;
increase coordination among local and national authorities to eliminate administrative and political obstacles;
ensure the allocation of at least 20 % of the total ESF resources in each Member State to promote social inclusion, fight against poverty and discrimination.
National Roma Integration Strategies (NRIS) and post-2020 strategy
With regards to the NRIS, the report notes with concern that the efforts and financial means which have been invested, and the numerous European and national programmes and funds which have addressed the Roma community, have not contributed significantly to the improvement of their living conditions and have not advanced Roma integration, in particular at the local level.
The report calls, on Member States to:
be ambitious in setting up their NRIS (define clear actions, tailor-made measures and set measurable goals and milestones), fully implement them, evaluate their effectiveness and update them regularly;
pay special attention to antigypsyism and its consequences, addressing not only the social and economic aspect, but also combating racism, while working on mutual trust;
empower National Roma Contact Points (NRCPs) by ensuring that they have an adequate mandate, the necessary resources and suitable working conditions in order to carry out their coordination tasks;
work closely with every stakeholder (regional and local authorities, researchers, the private sector, grassroots organisations and NGOs) and actively involve Roma;
further develop data collection, field work‑based, financial and quality-oriented monitoring and reporting methodologies;
give priority to children and the promotion of women´s rights, in particular in the allocation of funds.
It also calls on the European Commission to:
upscale the EU Framework for National Roma Integration Strategies after 2020
place antigypsyism in the focus of the post 2020 Framework in addition to social inclusion, and introduce anti-discrimination indicators in the fields of education, employment, housing, health, etc. as anti-gypsyism undermines successful implementation of NRIS;
Within 3 months after the adoption, the Commission should provide information to Parliament in writing on action taken in response to specific requests addressed to it, including in cases where it has not been able to follow Parliament's views.
More information about the report, including key players involved in the drafting procedure and relevant documents is available here