21/03/2013 | Brussels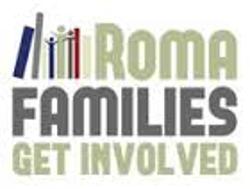 The involvement of the Roma families in the educational process of their children has been found to be critical to succeed in increasing the academic levels of young Roma. However, most socio-educational interventions with Roma children lack an integrated approach that takes into account the social and family context and many professionals working with Roma families consider they do not have the knowledge and skills to reach the families effectively.
The partners of the European project "Roma Families Get Involved" invite you to join us for a debate on Roma parents' involvement in the education process. What is the role of Roma families in the educational process of their children? Is Roma parents' involvement taken into consideration in the interventions in the education field? What is the state-of-play in different countries? What are the main challenges and how could parents' involvement be improved? What is and could be the role of public and private actors at national and European level? These will be some of the questions discussed by participants, which will include representatives of national and European institutions, international organisations, non-profit organisations, researchers and experts and other actors with knowledge and expertise in the areas covered. Experiences and practices from the countries involved in the project (Bulgaria, Hungary, Romania and Spain) as well as others will be showcase at the event and serve as basis for discussion.
The event will also feature the presentation of the methodological "Guide for working with Roma Families towards achieving the success of their children at school. A transnational methodological proposal for professionals", developed in the context of the project, which aims to provide guidance for professionals working on the ground to involve Roma families in the educational processes of their children, with a view to improving the educational situation of Roma across Europe. By disseminating this guide we aim to share a useful tool with other stakeholders working in the field of education of Roma children as a needed step towards successful programmes. 
The conference is organised in the context of the EU project "Roma families get involved", which counts on the financial support of the Lifelong Learning Programme (LLP) of the European Commission as well as national co-funds. The project has brought together during 2012-2013 public and private stakeholders with a wide knowledge and expertise regarding Roma and education and/or with competences in education from Bulgaria, Hungary, Romania and Spain with the aim of promoting Roma parents' involvement in education in order to reduce early drop out rates among Roma children.
The agenda of the conference will be available soon here.  
Simultaneous translation the following languages will be provided: English, Hungarian and Spanish.
If you would like to register, please fill in the registration form available here and return it to romafamiliesgetinvolved@gitanos.org by 18th March 2013.     
For more information, please contact Marta Hernández (romafamiliesgetinvolved@gitanos.org)
We look forward to welcoming you on the 21st March 2013!