12-15 October 2015 | Brussels (Belgium)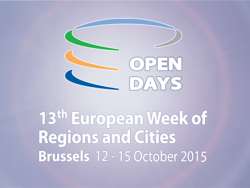 Open Days – European Week of Regions and Cities is an annual four-day event during which cities and regions showcase their capacity to create growth and jobs, implement European Union cohesion policy, and prove the importance of the local and regional level for good European governance.
The event was created in 2003 when the Committee of the Regions invited Brussels-based local and regional representations to the European Union to open their doors to visitors simultaneously. One year later the European Commission's DG for Regional Policy also joined.
Developing from the initial concept, the event has become a European networking platform for experts in regional and local development. Exchange of good practice in economic development and social inclusion, cross-border cooperation, public-private partnerships, regional innovation and community-led local development have become some of its many topics.
This year, the OPEN DAYS Brussels-based events, the event, that will be organized between 12-15 October 2015, will consist of an opening session (12 October), followed by some 100 working sessions (workshops or debates, 13-15 October).
With the headline  'Europe's regions and cities: partners for investment and growth' it will be structured around three thematic priorities:
'Modernizing Europe': The regions in the energy Union and the single digital market.
'Regions open for business': SME development, innovation and job creation.
'Places and spaces': Urban and rural development; urban-rural integration.
 Under the three sub-themes, participants are invited to address challenges and solutions related to management and implementation issues as well as the cross-border, inter-regional or transnational dimension. 
 The OPEN DAYS 2015 will be a perfect forum for national and regional Managing Authorities, final beneficiaries and EU institutions to exchange information and facilitate networking on novel approaches for implementing the funds.
The OPEN DAYS have geared towards an audience specifically interested in regional policy:
 Members of the Committee of the Regions, members of the European Parliament and national, regional and local politicians;
European, national, regional and local government officials and experts in the field of managing and evaluating cohesion policy programs;
Representatives of private companies, financial institutions and European and national associations;
Journalists from European, national, regional and local media; master or PhD students, researchers and practitioners in the field of European, regional and urban policy.
 The reformed cohesion policy will make available up to EUR 351, 8 billion to invest in Europe's regions, cities and the real economy. It will be the EU's main investment tool for delivering  Europe 2020 goals: creating growth and jobs, tackling climate change and energy dependence, reducing poverty and social exclusion.
 Registration for participation in the OPEN DAYS 2015 will open in July 2015:
http://ec.europa.eu/regional_policy/opendays/od2015/index.cfm