26/03/2013 | Committee of the Regions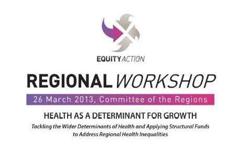 This Workshop, organised as part of
EquityAction, aims to:
Provide participants with examples of (sub)regional practices and policies that aim to tackle health inequalities;
Show how regions can apply (for) EU Structural Funds to projects that improve health equity by addressing the wider determinants of health;
Stimulate sharing and exchange of knowledge among participants from across the EU;
Inspire participants to take action within their own regions to achieve greater health equity.
During the workshop an online Structural Funds tool will be launched. This tool will provide practical information on the Structural Funds, and suggestions on how these Funds can be (better) used to contribute to greater health equity in the EU.
The event is supported by Mr. Dave Wilcox (UK/PES), member of the CoR, and the EU Health Programme of the European Commission (DG SANCO).
'Equity Action' is the Joint Action on Health Inequalities, which is a collaboration between DG SANCO and National governments of 12 EU Member States. One of the workstrands of this programme, which is coordinated by EuroHealthNet, has brought together a network of 29 regions to capture and share regional approaches to reduce health inequalities, and to strengthen understanding on how to influence and use Structural Funds to address Regional health equity issues. The outcomes of this work are the basis for the content of the workshop.
Equity Action has received funding from the European Union, in the framework of the Health Programme.
Learn more about Equity Action.
Organiser
EuroHealthNet is a not for profit network of regional and national agencies responsible and accountable for health promotion, public health and disease prevention in Europe. The organisation aims to help improve health and health equity within and between EU states, by supporting projects and policy development together with its members and the EU institutions; by exchanging information and by communication in and beyond its network.
For more information, please visit the website: www.eurohealthnet.eu
Agenda: click hereFurther Info and registration: click hereSource: COR