Over the last years, EURoma has been closely following the discussions and proposals on the post-2020 EU frameworks for Roma policies on the one hand and on European Structural and Investment Funds (ESI Funds). It has also actively contributed to them based on Network partners' experience and the reflection processes launched within the Network. Read about our comments and proposals.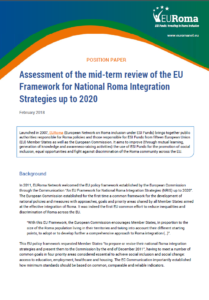 EURoma's contribution to the mid-term assessment process of the EU Framework for National Roma Integration Strategies (NRIS) launched by the European Commission
In this document EURoma takes stock of the most important achievements of the EU framework 2011-2020 such as the political commitment to Roma inclusion, the wide recognition of ESI Funds as key financial and political instrument to promote Roma inclusion and to develop NRIS or the fact that ESI Funds Regulations have created an increasing favourable framework of opportunities and tools.
It also analyses the most important challenges to be addressed in the future to achieve a real change in the lives of many European Roma that still suffer from poverty, exclusion, inequalities and discrimination and cannot fully exercise their fundamental rights.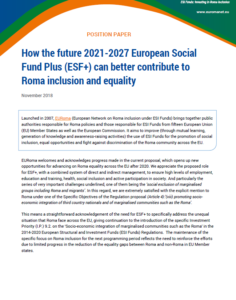 EURoma's recommendations on the European Commission's proposal for a Regulation on the  European Social Fund Plus (ESF+) 2021-2027
In this paper EURoma acknowledges progress made in the current proposal, which opens up new opportunities for advancing on Roma equality across the EU after 2020 and also proposes some improvements such as the need to concentrate and intensify large-scale/long-term support investments, or the desirability of greater coherence, synergies and complementarity between EU Funds or the advisability of a stronger link between all EU funding and fundamental rights and overall with international binding recommendations among others.
Why an explicit mention to the Roma community in the ESF+ Regulation Proposal is necessary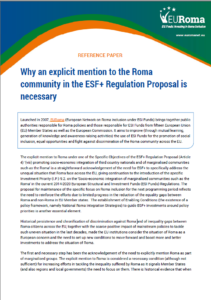 This reference document sets out the reasons why an explicit mention to the Roma community in the European Social Fund Plus (ESF+) Regulation is a necessary condition (although not sufficient) for addressing the unequal situation that Roma still face across the European Union.
The arguments raised also apply to other European Structural and Investment Funds (ESI Funds) as well as, more generally, to programmes or projects of relevance for Roma.
For further information, please contact EURoma Technical Secretariat